My all-natural disinfectant spray can  help protect your family from germs during cold and flu season. It can also be used to clean cutting boards and kitchen counters while cooking. Learn how to make your own lemon disinfecting cleaner for an easy, frugal cleaning solution that is also beneficial to your health.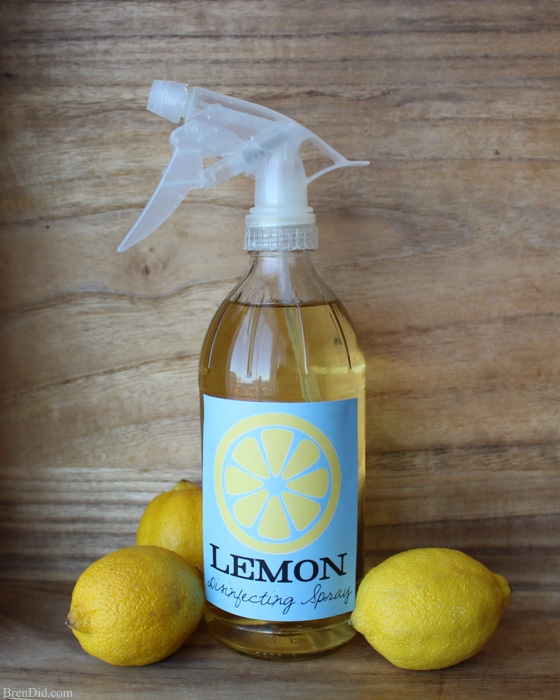 I stopped using commercial disinfecting cleaners in my home when I learned that they can contain hazardous chemicals and indoor air pollutants. These substances can cause health problems including asthma, hormone disruption, heart disease, cancer, headaches, eye irritation, congestion, and nausea.
I am also disturbed that manufacturers of cleaning products in the United States do not have to list the ingredients on the label of cleaning products. This means that you have no idea what you are exposing your loved ones to when you reach for most commercial cleaners.
Natural Disinfecting
This DIY disinfectant spray uses two simple ingredients to naturally kill germs: ethanol and lemon oil.
There is no need to run out and buy lemon oil, the lemon oil in this cleaner naturally comes from the rinds of a lemon when it is steeped in vodka.  You can save the lemon fruit or juice for other recipes.
Lemon Infused Disinfectant Spray Cleaner Ingredients
Unflavored Vodka (use a cheap variety for cleaning)
4-6 Fresh Lemons
Lemon Infused Disinfectant Spray Cleaner Directions
1.Wash and peel the lemons, place rinds in a glass jar. Cover the rinds with vodka and allow to steep in a cool dark place for 3-6 weeks.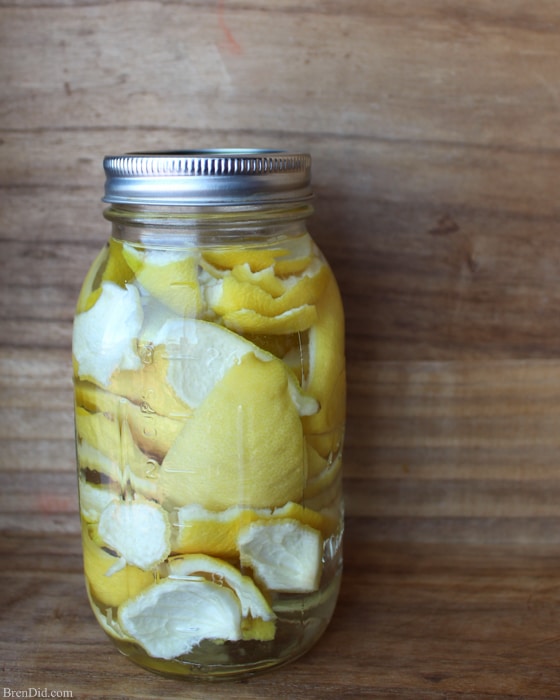 2. The cleaner is ready when it becomes a deep yellow color. Remove the lemon rinds and pour into a spray bottle.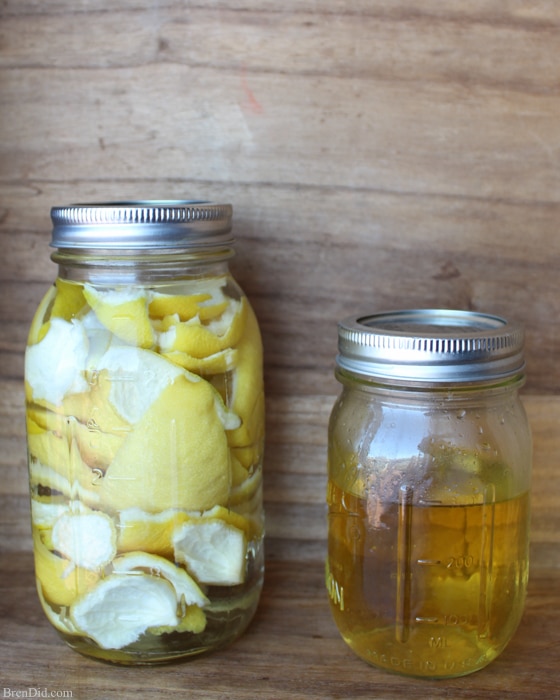 3. Download the PDF label from my free printable library and attach to the jar. (I print mine on full size labels for easy application.)
How to Use All-Natural Disinfectant Spray
Pour the lemon cleaner into a spray bottle and spray directly on areas you want to disinfect including countertops, cutting boards, toilet seats, floors, and more!
Allow the disinfectant at least 10 seconds of dwell time to kill germs. (Dwell time is the amount of time a cleaner must stay wet on a surface to be effective. According to the CDC, ethanol can kill Serratia marcescens, E, coliand Salmonella typhosa in 10 seconds. )
Wipe the surface dry (if desired) there is no need to rinse.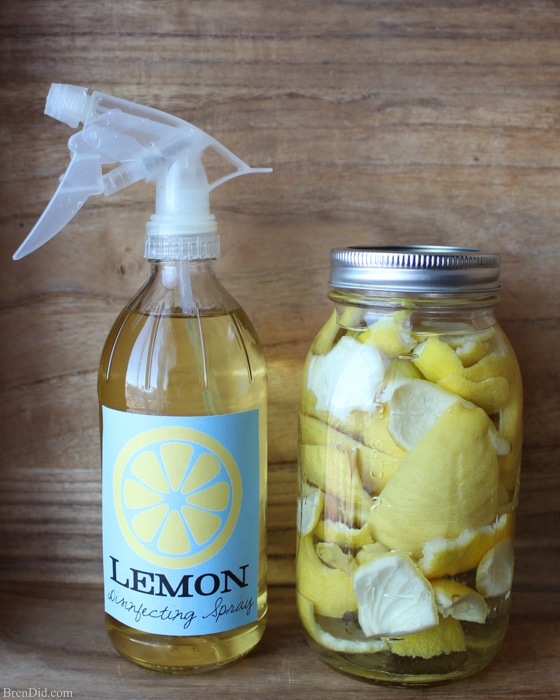 Like my green cleaning tutorials? Sign up for my newsletter below and never miss a thing! 

Bren Did Newsletter Subscribers Get Access!