From bat shaped fruit snacks to ghostly veggie chips, we've rounded up healthy snacks to buy for Halloween class parties. Your kids will love the fun halloween treats for school … and you'll feel good about serving better-for-you options.
Busy schedules and classroom rules mean that many school parties will be serving prepackaged snacks this Halloween. Luckily, the snack aisle isn't what it used to be!
Prepackaged snacks are getting healthier as people have become more health conscious. Even Halloween treats for school have improved as parents demand better options for their children.
Healthy Snacks to Buy for School Parties
These healthier Halloween snacks are perfect for school parties where packaged snacks are required and also make great treats for sack lunches.
Pepperidge Farm Goldfish Crackers
Baked cheese crackers are a dependable, kid pleasing snack. These Halloween themed packs have just 100 calories, 2 grams of protein, and no sugar! 24 packs per box.
Garden Veggie Chips Ghosts & Bats
Deep fried potato chips are full of fat and sodium. Veggie chips have the crunch of classic potato chips with 30% less fat and no artificial color. Kid pleasing ghost and bat shapes. 12 trick or treat sized bags per tote.
Quaker Chewy Halloween Minis
Granola bars are not always the healthiest option, but these portion controlled treats have chocolate chips so they're kid pleasing and only clock in at 60 calories. 28 mini bars per box.
Utz Halloween Pretzel Treats
One bag of these adorable bat and pumpkin shaped pretzels has 50 calories and no sugar. With 40 bags per box these mini pretzel bags are perfect for class parties, trick-or-treating, and lunch boxes.
Annie's Homegrown Organic Bunny Grahams
Honey & Chocolate Baked Graham Snacks come in fun sized pouches decorated with costumed bunnies. Each pack has two flavors of orange and brown bunnies and only 50 calories. 22 pouches per box.
Annie's Homegrown Organic Bunnies & Bats Fruit Snacks
These adorable Halloween shaped fruit snakcks are made with no artificial colors, no high-fructose corn syrup, and REAL fruit juice. One pouch contains 37 calories and 47% of your daily vitamin C requirement.
Pirate's Booty Baked Rice and Corn Puffs
These puffy, cheese-flavored snacks are amde with real cheese and no artificial color. They are the perfect substitute for junk-food cheese flavored snacks and contain only 70 calories per bag. The Halloween themed bag is a kid favorite.
Kellogg's Rice Krispies Treats Crispy Marshmallow MiniSquares
Rice Krispie bars are a childhood dessert favorite! With only 45 caloires, no gluten, and peanut /tree nut free these mini sqaures are perfect for class parties. 60 mini square per box.

Where to Buy Healthy Snacks for Halloween
I purchased all of the heathy snacks shown at my local Target. You can find them near the front of the grocery section with the Halloween candy and Halloween gifts. Check out your favorite big box store and grocery store for other healty options!
More Healthy Halloween Snack Ideas
I hope you enjoy these ideas for healthy Halooween treat you can buy.  Want to make your own snacks? These fun (and healthy) ideas are loved by kids.
Halloween Party Craft and Activity
Need a Halloween party activity? These free printable Halloween joke tellers are fun to fold and keep kids entertained!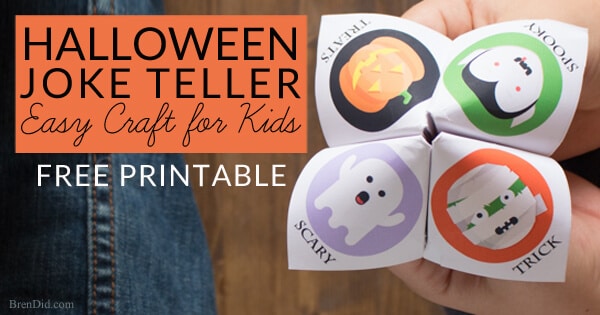 Like my creative ideas and free printables? Sign up for my newsletter below and never miss a thing!