Love adding autumn decor to your home? My favorite fall quote is from Anne of Green Gables by L.M. Montgomery, "I'm so glad I live in a world where there are Octobers." I've found seven free printable versions of this classic quote so you can add the perfect print to your home décor.
Disclosure: Netflix provided me with a streaming device and service in return for writing about their service. The opinions and free printables in this post are my own. Read more in Policies & Disclosures.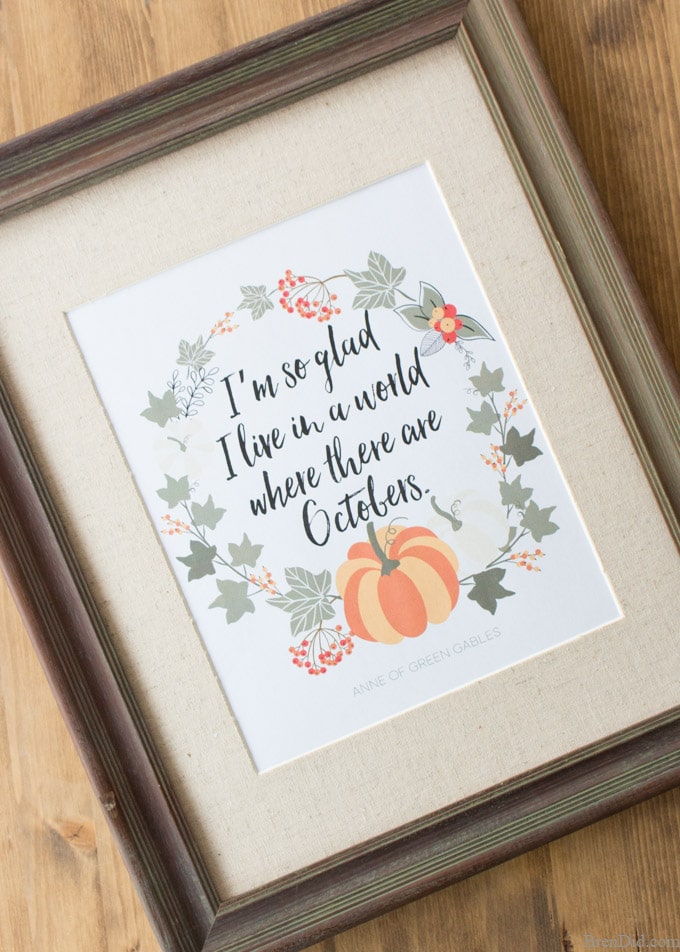 There is something special about fall and the month of October. Life somehow seems to get cozier and more magical as autumn enters.
Football season is in full swing. There are pumpkin patch visits and apple festivals. Outdoor furniture gets put away and the furnace is checked. It's the perfect time to pull out the extra blankets and snuggle around a campfire.
Thankful for Octobers
The best part of autumn… the spectacular display of fall leaves put on by Mother Nature! One morning I wake up and summer is over. The leaves have changed and I'm dazzled by the oranges and reds and golds of the season.
My dog walks turn into leaf collecting expeditions and I make fresh fall leaf wreaths to bring the gorgeous colors inside.
I love this relaxed time before the busyness of the holidays. It's the perfect time to take a deep breath and enjoy the beauty of the natural world. The feeling is summed up by this fall quote:
I'm so glad I live in a world where there are Octobers.
It's from 1908 novel Anne of Green Gables by Lucy Maud Montgomery. In the story Anne is delighted with the beauty of the season and decorates her room with gorgeous fall branches and an old blue jug (basically my idea of perfect fall decor!)
…then goes on to accidentally get her best friend Diana drunk on what she thinks is raspberry cordial.
It's perfectly classic Anne!
Anne with an E
Did you know that Anne Shirley is back on the small screen? I feel in love with the 1985 mini-series staring Megan Follows but I'm also enjoying the new Netflix adaptation, Anne with an E. The new Anne is just as spunky and spirited but audiences get a deeper look into the past experiences of the redheaded orphan.
You can relive the raspberry cordial incident in Episode 5, Season 1: Tightly Knotted to a Similar String.
Free Printable Fall Quote
This summer I created a set of 10 Free Printable Anne of Green Gables quotes that includes this famous October sentiment. I decided to create this new printable featuring pumpkins and simple autumn colors.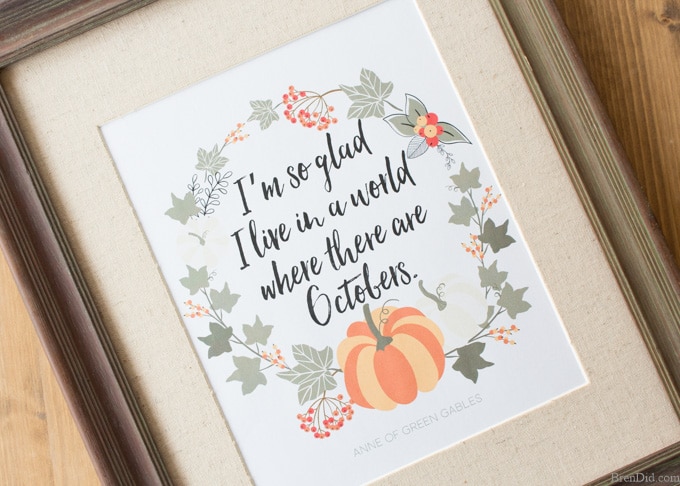 You can download the pumpkin themed quote from Bren Did.
More Free Printables
I love this fall quote so much that I found six other free printable versions to share. Browse though the photos below to find the perfect version for your home décor from some very talented bloggers!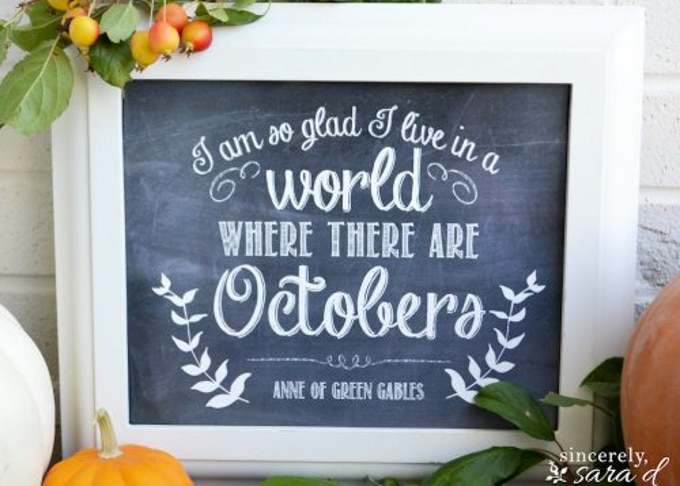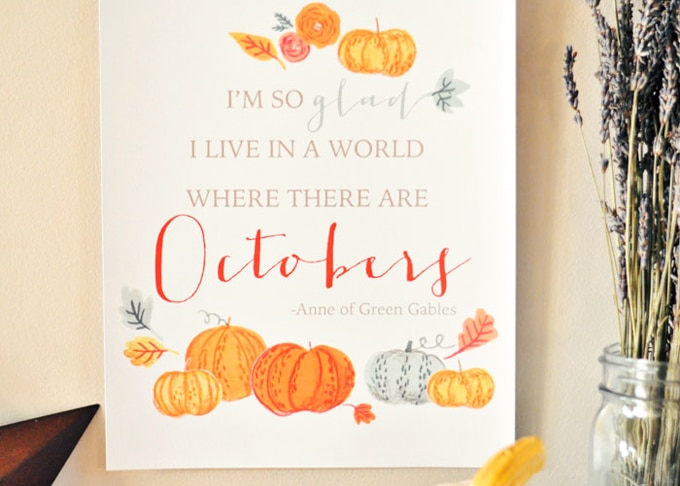 I hope you find a free printable you love and add a little L.M. Montgomery to your home decor this autumn!