Beautiful canvas art with a big bold designs can become the focal point of any wall. I love adding holiday art and wish I had a huge closet of canvas prints that I could hang for each season. Since my storage space and décor budget  do not match this goal I had to figure out a better way to bring seasonal canvases into my home.
I make my own custom canvases using canvas stretchers and patterned tea towels. You can purchase canvas stretchers in a large variety of sizes at craft stores with painting supplies. They slip together to form a frame for mounting canvas for painting. Don't worry, this project does not take much crafting ability…. it only requires you to iron and staple!
The DIY canvas art can be customized to any season or decorating style. I replace the fabric front for each holiday. You can simply remove and fold up the old fabric, store it for next year, then attach a new design. PRESTO…. tons of canvas wall art in one small stack of tea towel.
At $4 for a tea towel and approximately $8 for the canvas stretchers this large 22 x 24 inch art is a great deal!
DIY Canvas Art Supplies
Wooden Canvas Stretchers
Patterned Tea Towel
How to Make DIY Canvas Art
Measure your tea towel and select canvas stretchers that are a few inches smaller than the tea towel on each side.
2. Iron the tea towel, make sure it is smooth with no wrinkles. I use my DIY Spray Starch.
3. Assemble the canvas stretcher frame by slipping the bars together. You can glue and staple the corners of the bars to permanently attach them, I leave my canvas stretchers unglued so that I can take them apart and store them.
4. Place the frame over the ironed tea towel and locate the center of the top edge.
5.  Staple the center of the fabric to the frame. I use 1/4 inch staples. Repeat steps 4 and 5 on the other three sides of the canvas.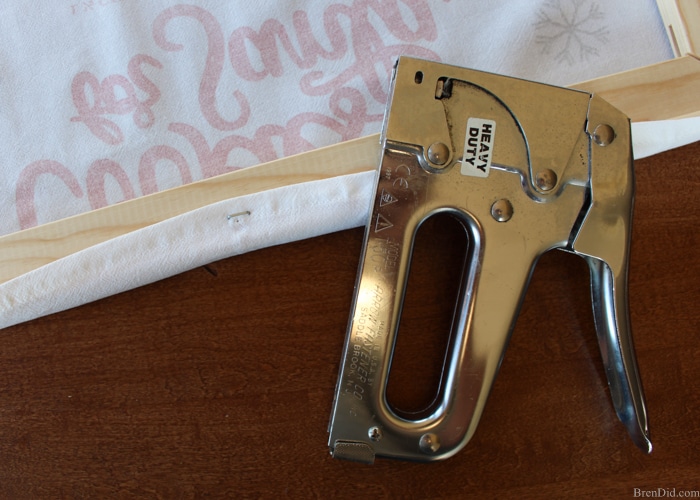 6. Check to make sure the fabric is correctly positioned on the frame.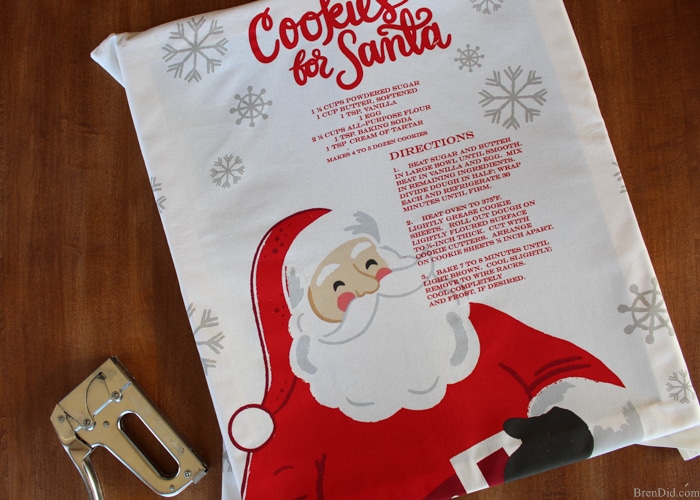 7. Add a few staple to each side of the center staple on each side of the frame, rotating between sides. This allows you to evenly stretch and secure the fabric.  Tip: keep the fabric taunt but do not pull it too tight or you will stretch and distort the pattern.
8. Secure the corners by making tiny pleats and then stapling.
9. Hang your new DIY canvas art and enjoy!
Like my easy craft projects? Sign up for my newsletter below and never miss a thing!

Bren Did Newsletter Subscribers Get Access!