This easy Sharpie Plate Tutorial makes a custom Catch All Tray that looks like a romantic love letter. It's a West Elm knock off you can add to your home décor at a fraction of the retail price.
This post uses affiliate links. They don't cost you a thing and help us bring you creative projects. Read more in Policies & Disclosures.
Knock Off Decor from West Elm
I love a knockoff project: DIY crafts with high end style for bargain basement prices. When I browse catalogs and websites I'm always brainstorming projects I can recreate.
I can't help it, it's just the way my mind works!
West Elm Love Letter Tray is a seriously cute porcelain catch all that is designed to look like a heart sealed envelope. It makes me think of stacks of romantic correspondence tied up with string.
Catch All Tray
I love this tray! It looks perfect on a bathroom counter or dresser and can be used to hold jewelry at the end of the day or on a hall table to hold mail and keys.
I was still dreaming up uses for this lovely piece when I realized it cost $24 for a 9 inch x 5 inch tray. It's basically a white rectangular plate for $25 bucks. Jeeze!
Affordable Craft Supplies
I found a rectangle tray called the Luminous Rectangle Server at Pier One Imports. It comes in several sizes you can use for the Sharpie Plate Tutorial. A medium tray costs about $10, it is approximately 10 inches by 4 inches.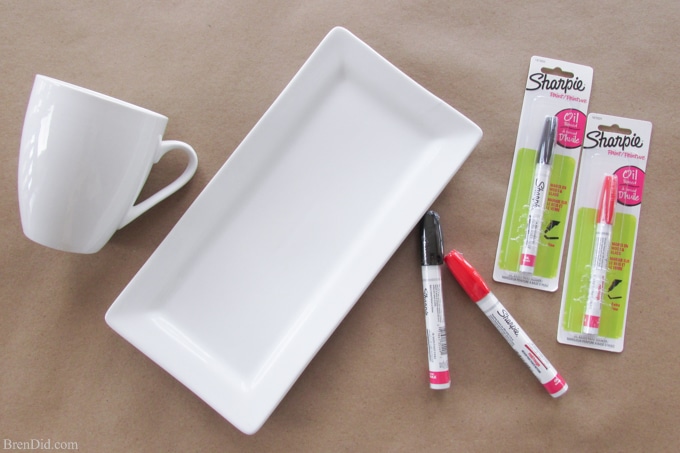 The Sharpie Oil Based Markers can be purchased online or in craft stores. You will need:
Sharpie Plate Tutorial Directions
 1- Prepare the plate surface.
Wash and dry the plate, remove any labels. Wipe surface with vodka or rubbing alcohol to remove any fingerprints or oils. Allow to dry.
2 – Mask the envelope lines.
Measure you plate and find the center point both horizontally and vertically. Mark this with a piece of masking tape slightly lower than the vertical center.
Use tape to mask off the lines of the letter. First mask the vertical lines that reach one inch down from each corner.
Then mask off a line that reaches from the bottom of the vertical lines to the center of the envelope.
Make sure you stop the black lines with enough room to draw the heart seal. I marked the size of the heart on my tape.
3 – Paint the envelope lines.
Draw your lines using the black oil based Sharpie paint pen. Allow to dry for at least 10 minutes then carefully remove the tape.
Clean up any mistakes using vodka or rubbing alcohol and a q-tip. I used vodka, it smells better!
4 – Mask and paint the heart seal.
Cut a heart from tape or contact paper. The heart should be slightly smaller than your desired seal.
Stick the heart where your seal with be placed and trace it using the red oil based Shapie paint pen.
Allow the heart to dry for at least 10 minutes then carefully remove the heart shaped tape. Fill in the heart.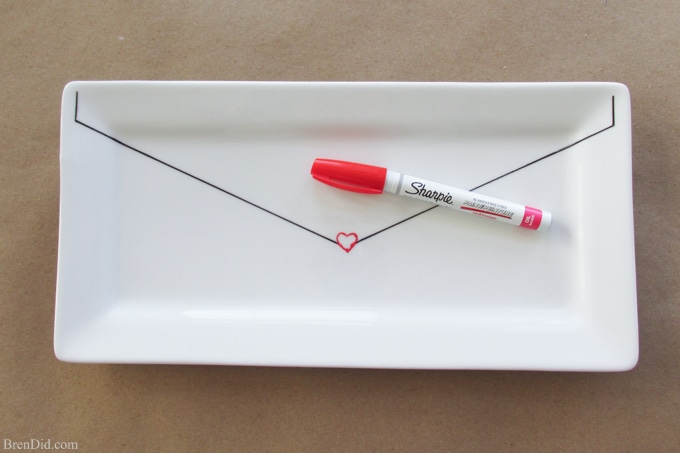 5 – Bake the plate.
Allow the plate to dry for at least 20 minutes then place in a cold over. Heat the oven to 350 degrees and allow the plate to "cook" for 20 minutes. Turn off the oven and allow the plate to cool.
Repeat the baking process to fully "cure" the paint.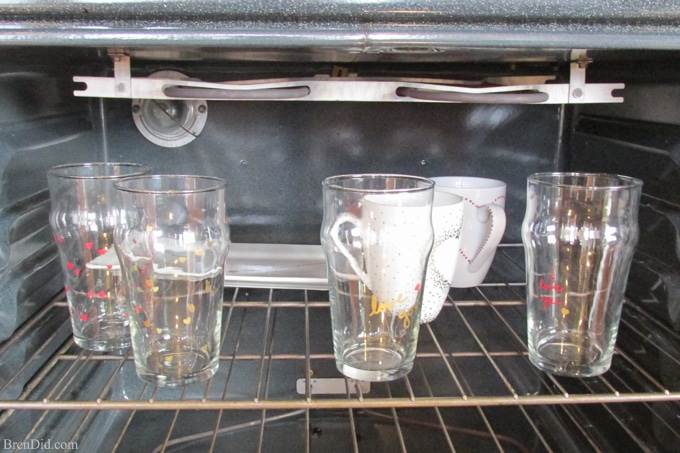 6 – Seal the plate (optional).
Allow the tray to cool completely. Then spray with a light coat of sealer. (I used Krylon Crystal Clear which will make the Sharpie run if applied too thickly.Try an acrylic safe sealer such as Modge Podge Clear Acrylic Sealer.)
Please be aware: Since I sprayed my tray with sealer I am NOT using it for food. Sharpie paint pens ARE NOT labeled food safe so I would stick to using them on surfaces that DO NOT come into contact with food or drinks. (This is true of all Sharpie tutorials and crafts found online, not just this one!)
The tray should be hand washed to make the design last longer.
7 – Allow to dry and enjoy your new catch all!
Shapie Plate Tutorial Cost
My tray cost $10 plus $4.00 for the Sharpie Oil Based Paint pens (the paint pens still have lots of uses left) so the final price is around $11!
The original West Elm tray was $24 so that's a savings of 55%! Not too bad for a fun afternoon of crafting.
I hope you enjoyed my Sharpie plate tutorial! It is a easy project with great results.

Check out my Sharpie Mug Tutorial and Sharpie Pint Glass Tutorial for more fun Sharpie paint pen ideas.
Sign up for my newsletter below and never miss a project!