I'm a lover of all things rustic: craft paper, twine, burlap, clothespins and mason jars. I also love crafts that take these humble items and elevate them into sometime even more adorable. This Christmas I am obsessed with clothespin crafts. I'm currently transforming them into homemade Christmas gift tags for all my presents.
Don't you hate it when a cute craft requires you to buy lots of new, expensive supplies? This is not that craft. You can buy 36 clothespins at the Dollar Tree for $1; crazy affordable craft supplies!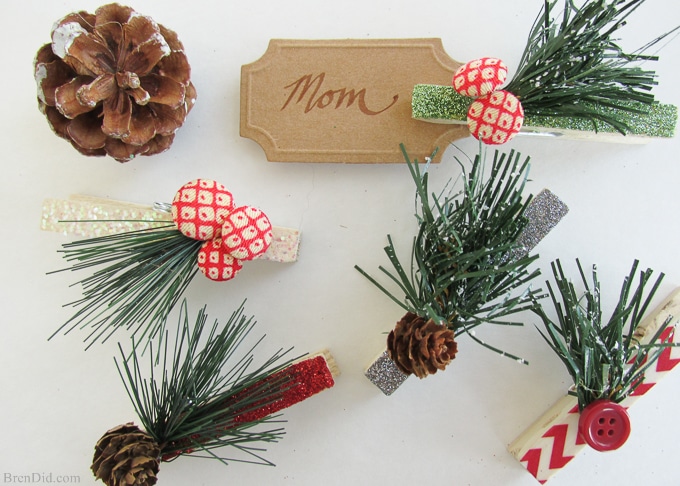 Next, raid your craft cupboard for school glue, glitter, colorful tape, and any fun baubles or decorative items you have lying around.
To decorate my clothespin gift tags I used tiny pom-poms, buttons, fake leaves, bits of fake evergreens, and some mini items I  had previously purchase at the craft store. (The last time I visited Michaels'. I was captivated by their selection of Christmas miniatures. There were tiny bottle brush tree, little deer and tiny jingle bells.)
Is it just me or is almost anything cuter when it is tiny?
The fun really starts once you have collected your supplies. You simply cover the top of your clothes pin with glitter using permanent double sided tape or school glue then add a decorative item with hot glue or craft glue.
I also made some gift tags using washi tape (sometimes called paper tape) in assorted Christmas colors. Let your creative side take over! You can't make a wrong choice.
 Homemade Christmas Gift Tags Supplies
Wooden clothes pins
Permanent double-sided tape or school glue (if using glitter)
Washi tape (sometimes called paper tape)
Glitter
Small decorative items
Hot glue and glue gun
Homemade Christmas Gift Tags Directions
1. Cover the clothespins with washi tape or glitter. If using glue, allow to dry.
2. Hot glue decorative items to the top of the clothespins.
3. Enjoy your gift tags!
Tip: You may need to add a dab of school glue under the ends of the washi tape if you are gluing heavy items to the top.
Do you like this crazy tag? My kids thought the buttons and greenery looked like eyes and crazy hair so they added a foam sticker mouth . I think it looks like Beaker from the Muppets or perhaps a cartoon pineapple.
I'm not sure which tags are my favorites. I love the deer and pine trees, but also love the holly inspired designs.
Like my easy crafts? Sign up for my free newsletter below and never miss a thing!