Learn to make your own DIY all-natural, non-toxic whipped shaving cream with this easy shaving soap recipe that uses just one ingredient plus water!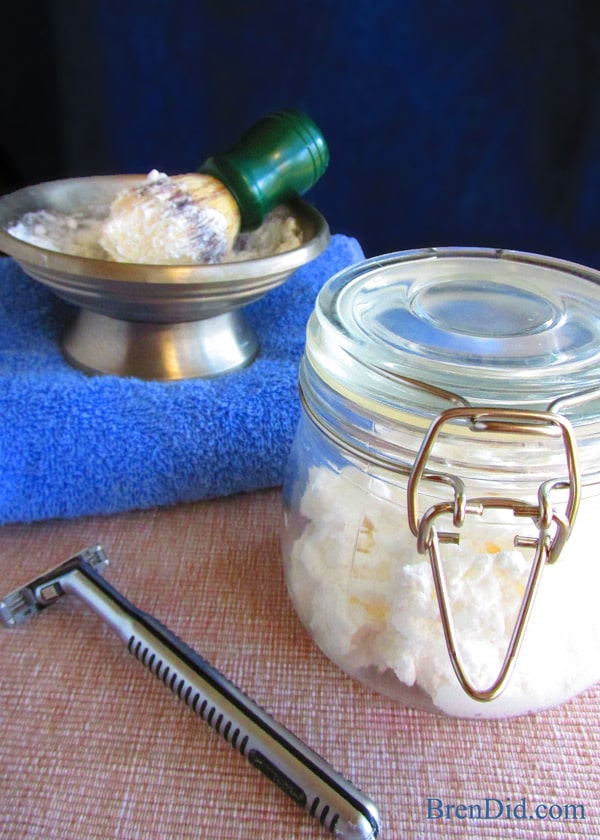 This post uses affiliate links. They don't cost you a thing and help us bring you creative projects. Read more in Policies and Disclosures.
My husband prefers shaving with Dr. Bronners Peppermint Shaving Soap, unfortunately our local market changed from carrying shaving cream to shaving gel a few years ago. Since the switch, my husband has been shaving with a bar of Dr Bronner's  Peppermint Pure Castile Soap, however it does not lather as much as traditional shaving foams.
I decided to try make whipped shaving soap for a surprise. It was easy to make and produced 2 cups of lovely whipped shaving soap for $1.87.
Shaving Soap Recipe Ingredients

Directions
Cut the Castile soap into small pieces and combine with water in a small saucepan.

Bring to a simmer over medium-low heat and  stir until the soap is completely dissolved.

Set the pan on the back of the stove to cool. Wait until the soap/water mixture solidifies (from 3-6 hours in a house that is 70 degrees).

Whisk the soap by hand or with a portable electric mixer until it resembles stiff whipped cream.

Store in a closed container and use within a few weeks for best results.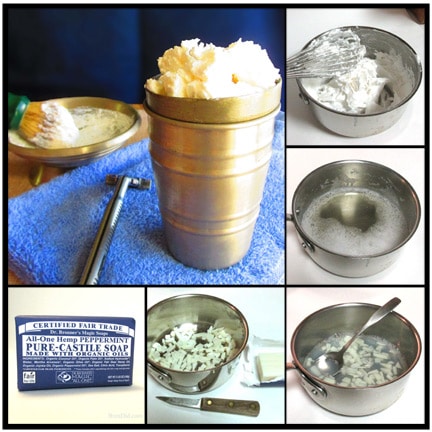 The whipped shaving soap recipe makes an excellent lather using a shaving brush. (It can be applied with your hands too.)  It is also great for legs.
Tip: Dr Bronner's  Peppermint Pure Castile Soap is a great shower soap too. It's invigorating smell and tingly later make it a great substitute for less healthy "male
scented soaps.
Like my easy bath and beauty tutorials? Sign up for my newsletter below and never miss a thing!