Valentine crafts for kids are so much fun: paper, glue, hearts, candy and glitter… what could be better? Here's a roundup of some of my favorite Valentines craft ideas. I'm also including an easy recipe for dressed up rice krispie treats from Valentines past AND some links to the Valentines we'll be making this year.
This is my favorite Valentine collection box. My son made it for his third grade class using a balloon, good old-fashioned paper-mâché, and poster paints (and a dad!). Ain't it fetching? See boys can enjoy Valentine's too!
That year we made Valentine robots…must, love, you! Here's a tutorial from Spoonful. I heart the UPC symbol mouths. Robot- loves- to -recycle!
My daughter made Valentine flowerpots when she was in preschool. Adorable and easy enough for little hands to help assemble! Here's a tutorial from Spoonful. We used foam sheets cut into hearts and suckers to make the flowers. We then kicked it up a notch and stuck the flowers into a Styrofoam coffee cup colored brown to look like a flower-pot (invert another cup inside the flower-pot to hold the sucker sticks).
Last year we went with a technology vibe and made iPods with directions from Spoonful. Instead of wrapping conversation hearts I made mini paper boxes to fill with store bought goodies .
Here's a PDF of the boxes. Seal them in a snack size baggie then staple on a printed paper top for a cute presentation.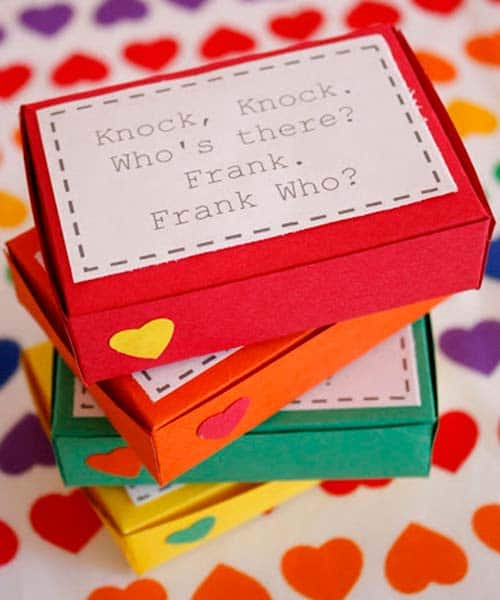 This year we're going to be funny Valentines with these adorable boxes from Delia Creates. Valentine's Day plus candy plus knock-knock jokes might be the definition of kid heaven.
An easy option for Valentine's Day treats is dressed up Rice Krispie bars, all you need are Rice Krispies, marshmallows, chocolate chips, white chocolate chips and your choice of Valentine sprinkles.

I'm also going to be making a healthy treat option for classroom this year. Check out these adorable strawberry heart skewers from
Modern Parents Messy Kids 
Hope you enjoyed these Valentine Crafts for Kids!
What are you making for Valentine's Day?