Magnesium rich Epsom salt baths  can help raise magnesium levels. I have found that increasing my magnesium levels helps me sleep better, calms my restless leg syndrome, prevents migraine headaches, and generally makes me feel less stressed. Try this easy all-natural bath recipe today.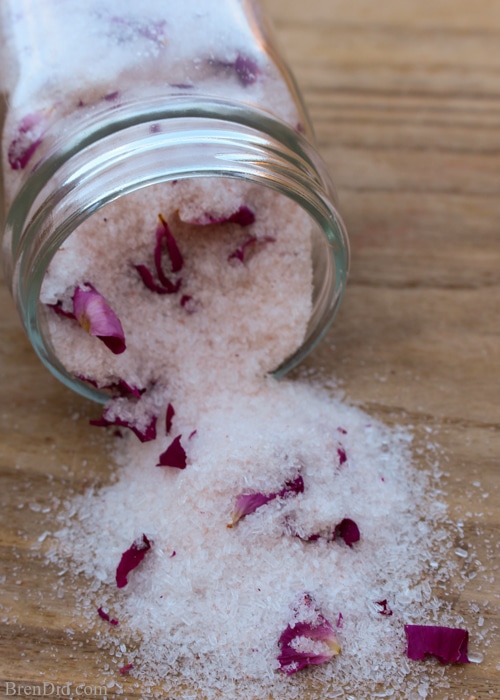 This post uses affiliate links. They don't cost you a thing and help us bring you natural beauty tutorials. Read more in Policies & Disclosures.
Magnesium Detox Baths
Have you read about the wonders of magnesium? It's a hot discussion topic in healthy living circles.
Oregon State University explains the importance of magnesium intake. In fact, low magnesium intake has been associated with a slew of health problems from hypertension and type 2 diabetes to migraine headaches and asthma.
The RX List explains that magnesium has been used for treating anxiety, chronic fatigue syndrome, Lyme disease, fibromyalgia, leg cramps, migraine headaches, , premenstrual syndrome (PMS), restless leg syndrome , skin infections and more.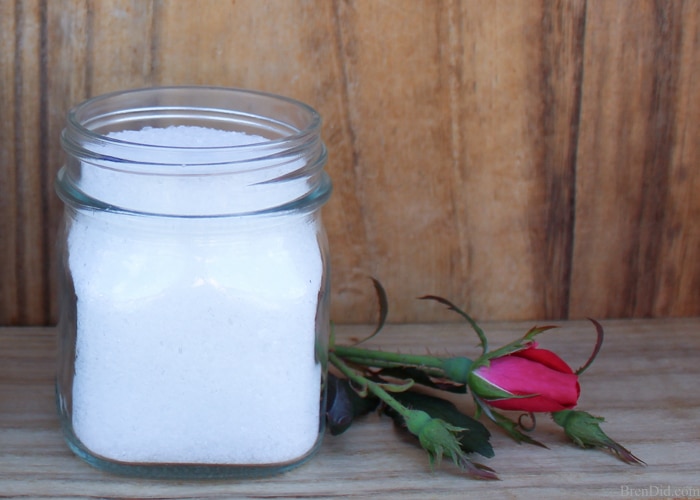 How to Apply Magnesium Transdermally
Magnesium can be consumed orally, but users often see better results with trans-dermal or topical application. Trans-dermal application allows the magnesium to be absorbed through the skin and into the bloodstream.
You can transdermally apply magnesium in two main ways:
By soaking in a magnesium rich bath
I have tried magnesium oil sprays (which are not actually oils but a concentrated mix of magnesium in water ) on my skin, but the concentrated salt made my skin itchy and irritated. (Experts suggest applying the spray 20 minutes before a shower to prevent itching, but I usually get into the shower as soon as I wake up. )
Luckily, magnesium baths work great,  do not irritate my skin, and are a relaxing ritual before bedtime.
Using Epsom Salts
Epsom salt is the common name for magnesium sulfate. (It is named after a spring at Epsom in Surrey, England.)
Epsom salt is not actually salt but a naturally occurring mineral compound of magnesium and sulfate. Pharmaceutical grade Epsom salt is easy to find in the United States and is very affordable. (I pay around $6 for 8 lbs of Epsom salt. Each detox bath uses about a cup of magnesium sulfate.)
When purchasing Epsom salt make sure you are buying PURE Epsom salt. Do not buy bath salts that contain Epsom salt along with artificial fragrance, artificial color and filler ingredients!
If you have trouble locating pure Epsom salt at your store check the pharmacy section or ask a pharmacist. You can also order them online.
Other Detox Bath Ingredients
I like my detox baths to be a big more interesting than just plan Epsom salt. Hey, I'm a girl who loves fancy bath products! For this reason I add three optional (but also therapeutic) ingredients.
1.Himalayan Pink Sea Salt – These beautiful pink salts are naturally rich in 84 relaxing and replenishing minerals (including iron which gives the salt its color). Himalayan salt is used by many health spas to help heal the body and relax the mind.
2. Rose Absolute Essential Oil (Rosa Damascena) – Rose Oil is known to be uplifting and comforting. It is used in aromatherapy to treat depression, stress, grief, insomnia and anxiety.
3. Dried Rose Petals  – Rose petals smell lovely and contain trace amounts of rose oils. Plus, they give beautiful color to this bath salt mixture. Learn how to make your own dried rose petals.
How to make Magnesium Rose Natural Detox Bath Salts
1.Place 1 cup of Epsom salt in a glass bowl or jar. I make my bath salts in a large Mason jar where they can be stored.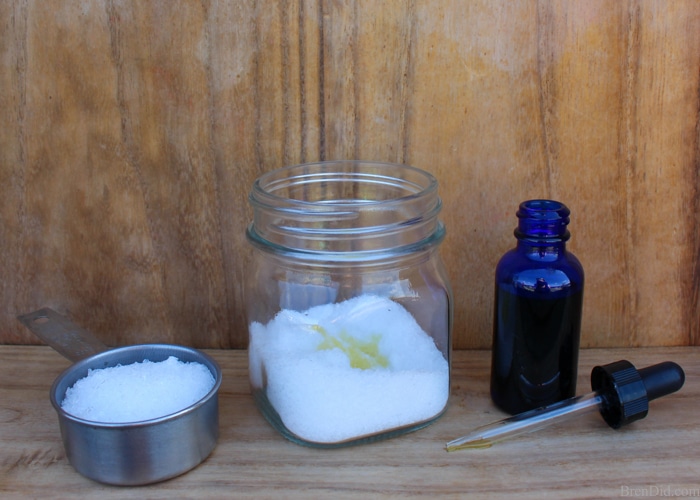 2. Add 10-20 drops of Rosa Damascena Essential Oil. (The number of drops depends on how strong you would like the scent.) Stir until there are no clumps and the essential oil has been absorbed by the Epsom salt.
3. Add ¼ cup Himalayan salt and stir until well combined.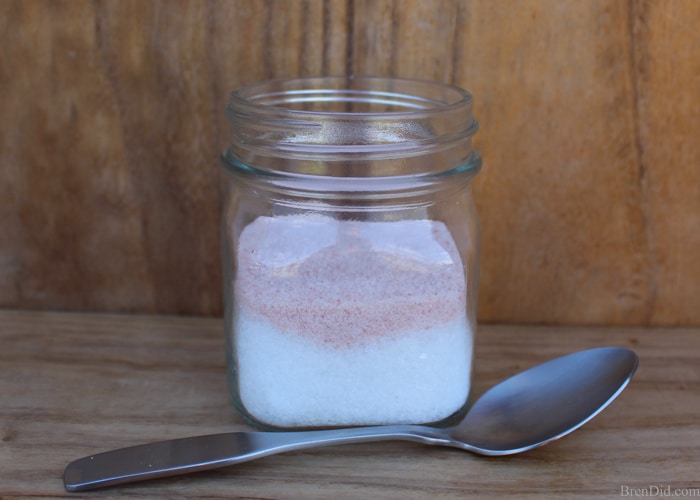 4. Add ½ cup of dried rose petals and stir until well combined.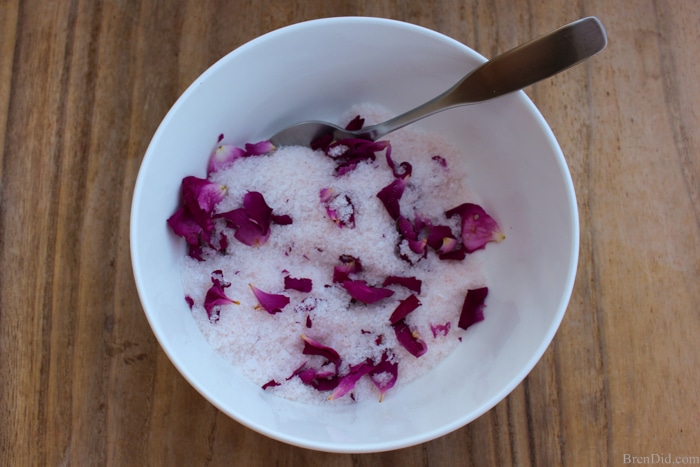 5. Store in an air tight container.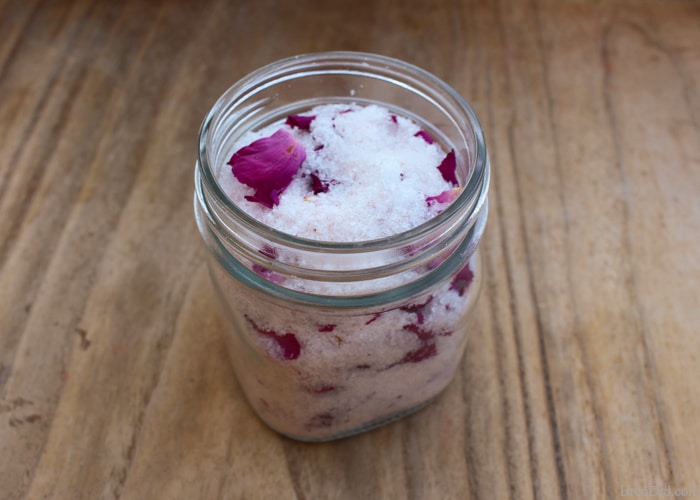 How to Take a Detox Bath
Add the bath salts (the entire 1 ¼ cups) to a small amount of hot water in your tub. Swirl to dissolve. Fill tub with warm water. Soak in the tub (with the solution) for 30 minutes. After soaking use a towel to dry off your body but do not rinse off. You should nap or rest for at least 30 minutes after your detox bath. I take my baths before going to bed for a great night's sleep. Be sure to drink plenty of water during and after the bath.
This information is provided for educational purposes only and has not been evaluated by the Food and Drug Administration. This information is not intended to diagnose, treat, cure, or prevent any disease.
More Easy DIY Bath Recipes
This easy all-natural bath products soften skin, promote detox, aid in sleep, and relax tired muscles. Try one today!
Fresh Snow Moisturizing Detox Bath – This moisturizing bath soak looks like freshly fallen snow. It contains natural oils to soften skin and magnesium rich Epsom salts to help relax your body and mind before bed. You can make and use this easy recipe today!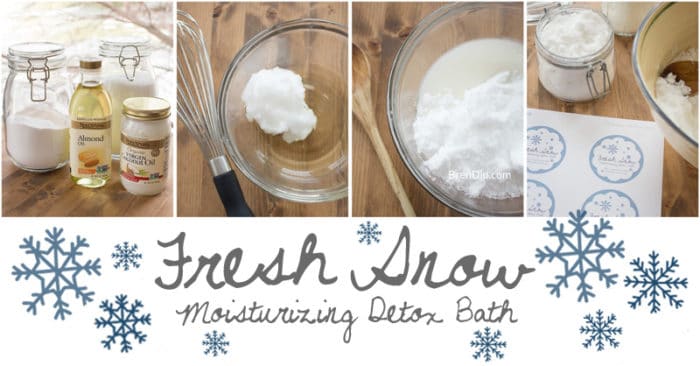 Rosemary Chamomile Detox Bath Soak – Detox bath salts help remove toxins and promote peaceful sleep. This all-natural Rosemary Chamomile Detox Bath recipe uses dried herbs and essential oils to create an inexpensive but luxurious detox bath soak.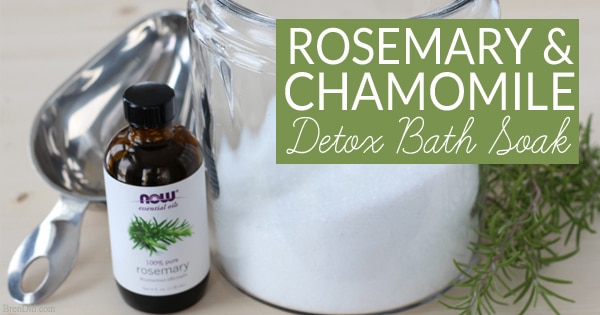 Milk & Honey Moisturizing Bath Melts – Homemade bath melts use powdered milk, honey, and natural oils to soothe itchy skin while you soak. Get the easy recipe and rescue your skin with this all-natural bath soak.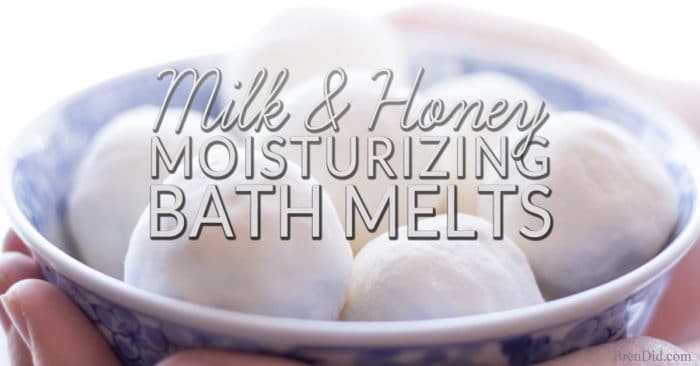 Like my natural body care tutorials? Sign up for my newsletter below and never miss a thing!