Make a Sharpie Pint Glass for the beer lover in your life. It's the perfect DIY gift for Vaentine's Day,Father's Day, birthdays, and more!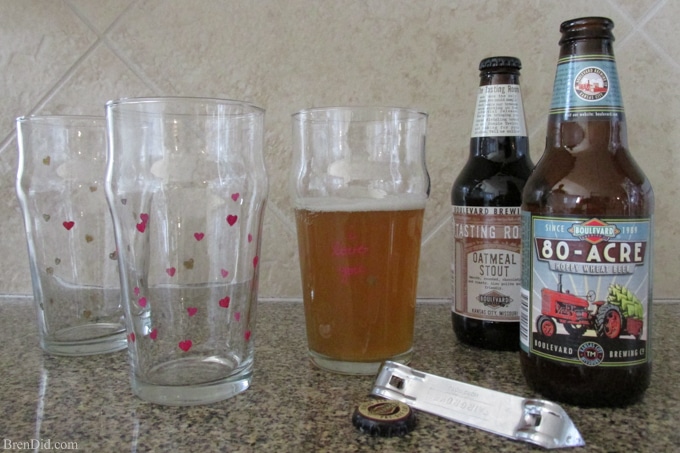 This post contains affiliate links. They don't cost you a thing, but help us bring you creative projects. Read more at Policies & Disclosures. 
Have you seen all the gorgeous Sharpie projects on Pinterest? I have been itching to try using paint pens on glass and decide to make a Valentine Sharpie Pint Glass for my hubby.
Crafty vs Artistic
Quick admission…
I love making crafts but I am not the most artistic person.
Seriously, my kids are better at drawing with pencil and paper than I am.
This lack of artistic skill means that when I set out to make a new project I have to figure out easy hacks to make it look nice without much talent.
No Skills Needed
There are thousands of beautiful Sharpie paint pen projects online but most of them require free hand lettering or drawing skills. When I attempt those projects they look like they were made by a preschooler.
My easy Sharpie projects (including heart handle mugs,  love letter catch all tray, and  serving tray with glasses) all use simple hacks like tracing, stencils, or DIY stamps to create picture-perfect DIY projects…
No artistc skills needed!
Custom Sharpie Pint Glasses
This Sharpie pint glass project uses a homemade stamp to decorate the glasses.  It's simple to create… just like carving a potato stamp for a kindergarten art project.
Supplies
Clear Pint Glass: British-style pint glasses have a distinct shape. I purchased my clear pint glasses at my local dollar store. (You could also use this affordable glass set.)
Oil-Based Sharpie Paint Pens:  You'll need red and gold paint pens to create my designs. (Fine and medium tip markers work best.)
X-Acto Knife: Carve the eraser with an X-Acto (see directions below)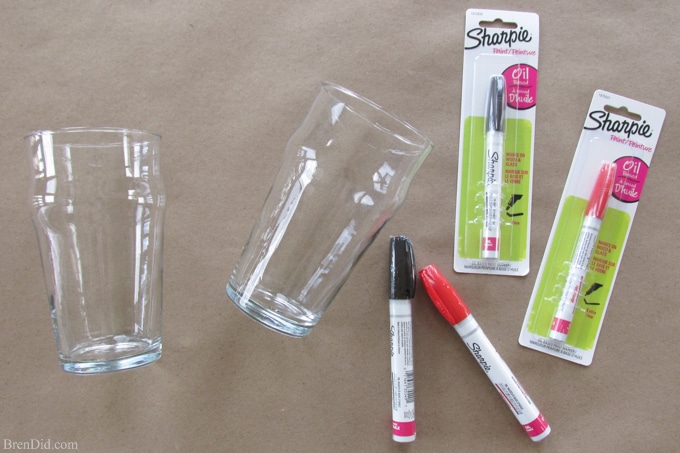 Sharpie Pint Glass Directions
1. Prepare the glasses.
Remove all labels then wash and dry the pint glasses. Wipe the surface to be painted with rubbing alcohol or vodka to remove any oil. Allow to dry.
2. Make a mini heart stamp.
Draw a tiny heart on the eraser of a new, unused pencil. Use an X-Acto knife to carve out the heart.
Use a marker or stamp pad to ink and test the eraser stamps while carving. This allows you to see the shape of the heart.
3. Stamp the pint glasses.
Cover the top of the eraser stamp with paint from the Oil-Based Sharpie Paint Pens. The paint should be thick but not dripping.
Press the eraser firmly against the glass. Do not push too hard or the heart shape may distort  Repeat until the desired number of hearts has been stamped.
To change colors, wipe the eraser clean with vodka or rubbing alcohol.
Used a fine point paint pen to write a message (optional).
Mistakes can be removed with rubbing alcohol or vodka.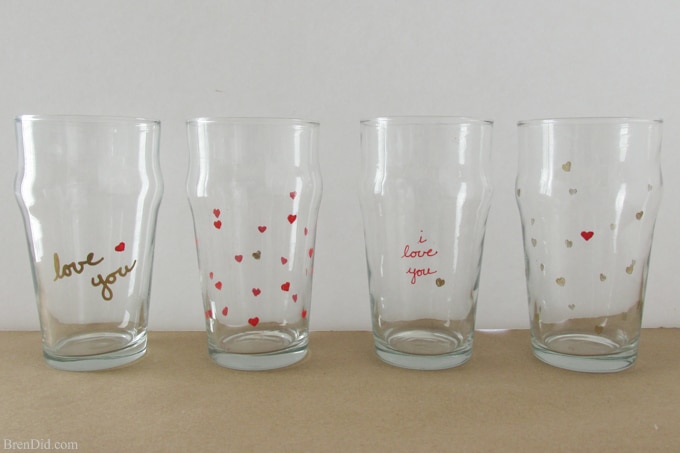 4. Bake the glasses to set the paint.
Allow the glasses to dry for at least 20 minutes then place in a cold over.
Heat the oven to 350 degrees, set timer to 20 minutes, and allow the glasses to bake.
Turn off the oven and allow the glasses to cool completely before removing.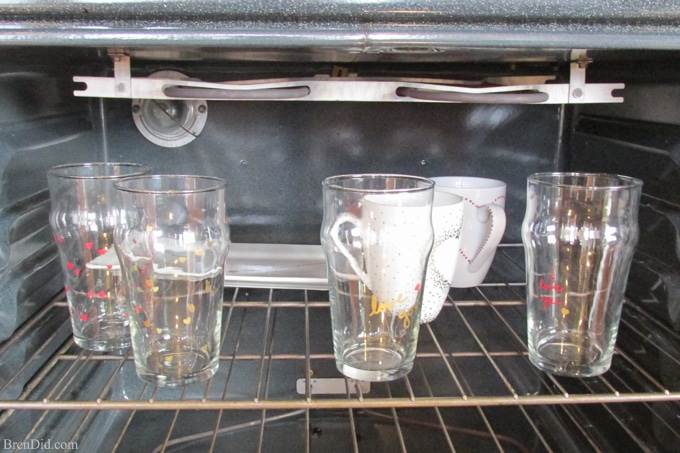 Sharpie Project Notes
The glasses MUST be hand washed.
Do not decorate the inside of the glass or any parts of the glass that will come into contact with your mouth.
More Easy Sharpie Crafts
Check out my other EASY Sharpie paint pen projects:
Sharpie Glasses – This easy project can be made with your favorite superhero logo. (If you can trace you can make it!)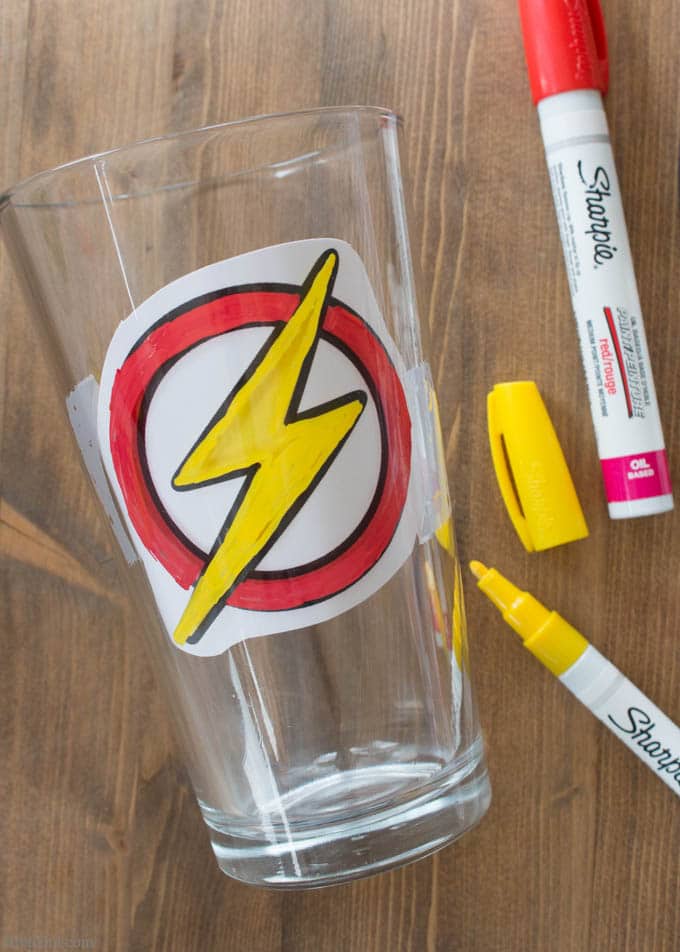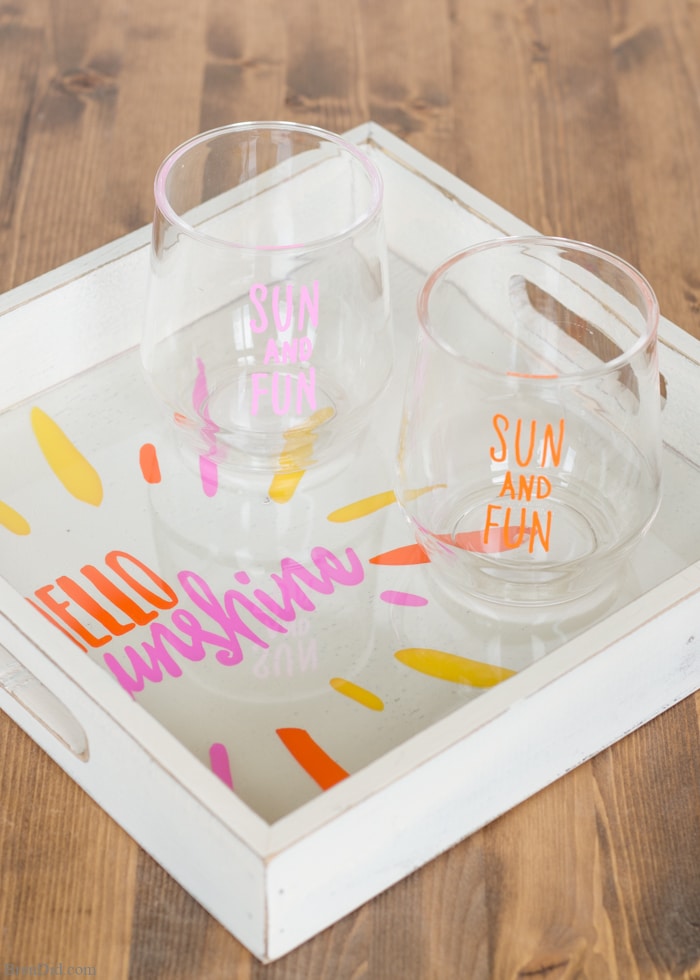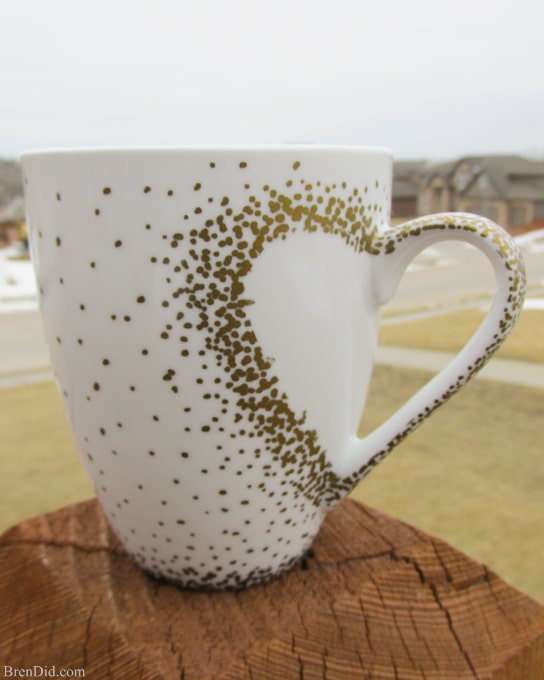 Like my easy crafts? Sign up for my newsletter below and never miss a thing! 

Overwhelmed by Green Cleaning?
I can help! Subscribe below and I'll send you my Simple Swaps guide full of EASY changes you can make to your cleaning routine.
The free 10 page guide will help you baby step your way into green cleaning... no overwhelm needed!