Do you have stinky feet or smelly shoes at your house?
Don't worry I won't tell anyone…
But I will ll let you in on a little secret…
Several members of the Bren Did family have very sweaty toes. Open the wrong closet and you will be over powered by the foot odor that is cause by those cute little piggies!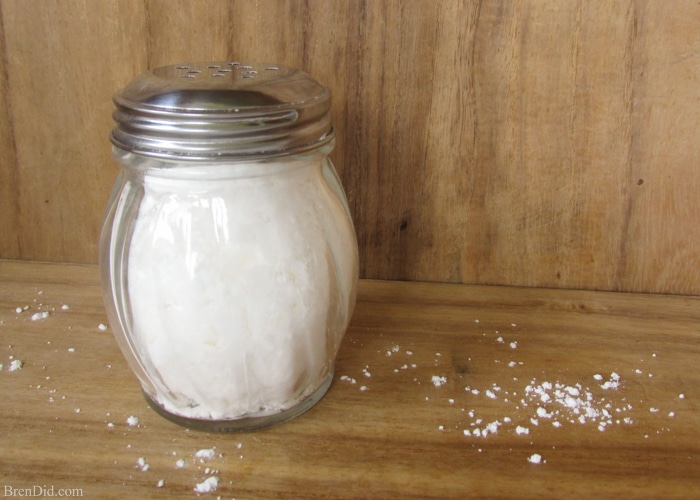 This post uses affiliate links. They don't cost you a thing and help us bring you creative projects. Read more in Policies & Disclosures.
Why Feet Smell
Foot odor is caused by warm, sweaty toes and the bacteria that love them. The bacteria grow in the warm, damp environment created by your feet in shoes and continue to flourish in the closet. (This warm, damp environment is also the perfect place for Athlete's Foot to grow, if you have this problem check out my post to learn How I Naturally Treat Athlete's Foot).
Curing Smelly Feet
It's pretty easy to eliminate foot smell once you know the cause. To stop your feet and shoes from stinking you need to kill the bacteria that causes the smell and create an environment that prevents their growth.
I have found three effective and all-natural ways to get rid of foot odor:
This all natural Cooling Foot and Shoe Deodorizing Powder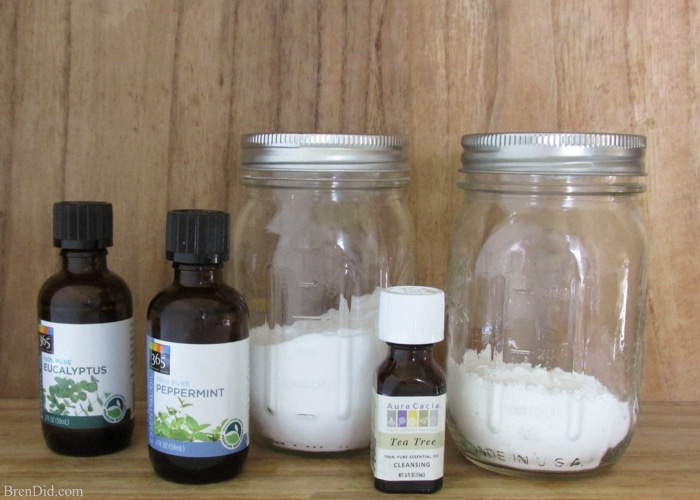 How Foot and Shoe Powder Works
This cooling foot powder contains three natural ingredients that work together to eliminate stinky feet:
1. Baking Soda (sodium bicarbonate) is an effective foot and shoe deodorizer because of its basicity. Baking soda is fungistatic, this means that fungal and bacterial spores will not germinate (grow) when the alkaline baking soda is present. Sweat is acidic and is neutralized by the alkaline baking soda.
2. Corn Starch (or Arrowroot Powder) is a highly absorbent powder that absorbs any moisture left behind by your sweat. Human perspiration is 99% water! A dry environment is much less friendly to bacteria and fungus.
3. 100% Essential Oils
Foot and Shoe Powder Directions
To make the foot spray simply mix the following ingredients together in a glass jar ( I use this shaker jar) :
How to Use
Apply powder to feet and in between toes. Sprinkle into shoes to eliminate odor (leave it in overnight or longer). I keep a shaker of foot powder in our shoe closet and sprinkle it in shoes when necessary.
The powder feels heavenly on hot or tired feet. Shake your shoes out the door or over the trash can before putting them on.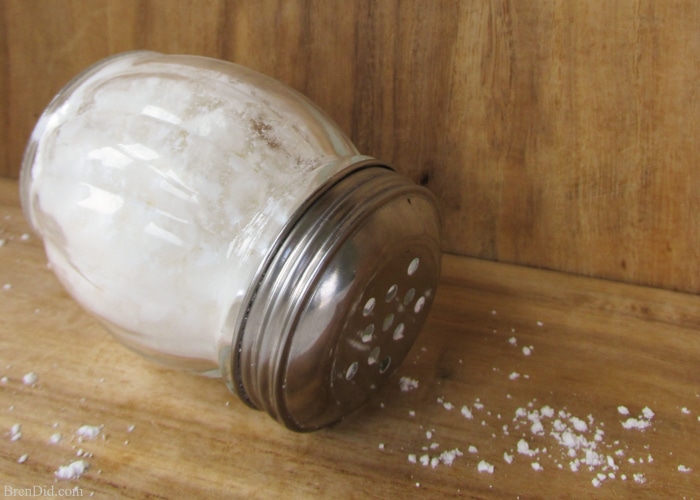 Foot and Shoe Powder Cost
My Cooling Foot and Shoe Deodorizing Powder costs about $0.98 for 1/2 of a cup.  That's about $0.08 for the baking soda, $0.40 for the corn starch and approximately $0.50 for the essential oils.
A similar natural foot powder costs $14.49 for 4 ounces. You're saving more than $12 by making your own all-natural foot powder and you know exactly what it contains!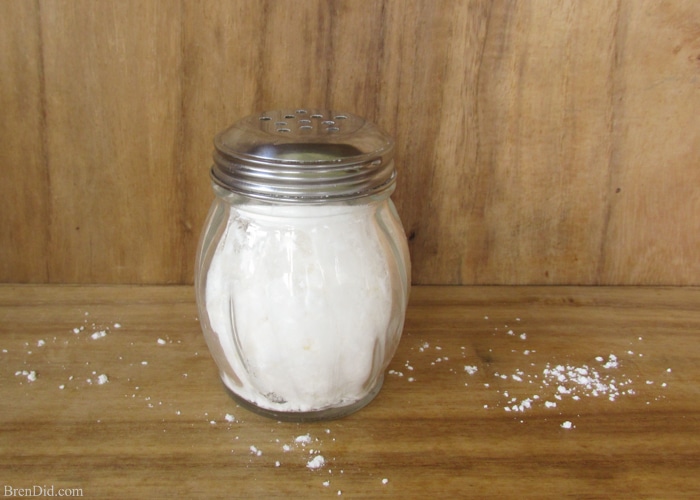 I hope this natural foot odor cure keeps your feet cool and shoes smelling sweet. Looking for more solutions? No More Stinky Feet Spray is an easy spray that also eliminates stinky feet and shoes.
Like my natural bath and beauty tutorials? Sign up for my newsletter below and never miss a thing!

Check out my Natural Carpet and Room Refresher recipe to learn how to use baking soda and cornstarch to clean and deodorize, it works great!